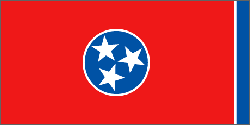 Tennessee
"Volunteer State"
Motto

Agriculture and Commerce (1987)

Capitol

Name Origin

Of Cherokee origin; the exact meaning is unknown

Statehood Date

June 1, 1796 (16th)
Cities in Tennessee
NOTE: Not all cities are displayed. Please narrow your selection by using the search above.
Official Symbols
A state's official symbols represent the composition and culture of the land and people who live and have lived here. Below are the symbols of Tennessee along with the year they became official.
| | |
| --- | --- |
| Flower | Iris (1933) |
| Tree | Tulip Poplar (1947) |
| Bird | Mockingbird (1933) |
| Horse | Tennessee Walking Horse |
| Animal | Raccoon (1971) |
| Wild Flower | Passion Flower (1973) |
| Songs | "My Homeland, Tennessee" (1925); "When It's Iris Time In Tennessee" (1935); "My Tennessee" (1955); "Tennessee Waltz" (1965); "Rocky Top" (1982); "Tennessee" (1992); "The Pride Of Tennessee" (1996) |
Demographics
Population Density

138.0 people per square mile
Geography and Weather
Land Area

41,217 sq mi. (106,752 sq km)

Lowest Elevation

0 ft (0 m)

Average Elevation

900 ft (274.32 m)

Highest Temperature Recorded

113°F (45°C) on August 9, 1930

Lowest Temperature Recorded

–32°F (–36°C) on December 30, 1917